San Francisco Fraud Hotline Webinar: Using Root Cause Analysis to Enhance Your Anti-Fraud and Ethics Process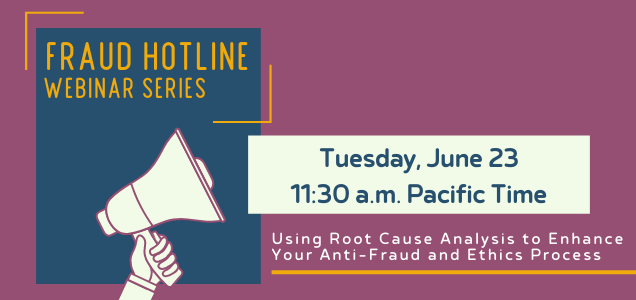 Join us for the next installment of the City and County of San Francisco's Fraud Hotline Webinar Series, which will air on June 23, 2020 at 11:30 a.m. Pacific Time.
Topic: 
Using Root Cause Analysis to Enhance Your Anti-Fraud and Ethics Process
Presenter:
Jonathan T. Marks, CPA, CFF, CITP, CGMA, CFE & NACD Board Fellow
Partner | Firm Practice Leader, Global Forensic, Compliance & Integrity Services
Baker Tilly Virchow Krause, LLP
Description:
Root cause analysis is a tool to help identify not only what and how an event occurred, but also why it happened. It is a key element of a fraud risk management program and now a best practice of an organization's compliance program. When you determine why an event or failure occurred, you can recommend workable corrective measures that deter future fraud events of the type observed. It's important you think critically by asking the right questions, applying the proper level of skepticism and, when appropriate, examining the information from multiple perspectives.
You will learn how to:
Identify root causes (not just causal factors) using proven techniques.

Initiate a root cause analysis incident exercise.

Assess Socratic questioning and how it can be used in the root cause analysis process.

Implement three lines of defense as part of the root cause analysis, which will help the audit committee and senior management understand where the breakdowns occurred.
Jonathan will also provide a brief segment on how he is continuing his work on root cause analysis during the COVID-19 pandemic and answer questions related to this at the end of the presentation.
EVENT ACCESS INFORMATION:
The webinar will begin promptly at 11:30 a.m. Pacific Time. Please log in between 11:20 and 11:30 a.m. Pacific Time. Access the webinar via Webex here.
Follow the San Francisco Controller's Office @sfcontroller on Twitter and subscribe to our reports.
---
About the Office of the Controller
The Controller's Office works to ensure the City's financial integrity and to promote efficient, effective, and accountable government. We strive to be a model for good government and to make the City a better place to live and work. The Controller's Office is responsible for governance and conduct of key aspects of the City's financial operations, including operating the City's financial systems and procedures, maintaining the City's internal control environment, processing payroll for City employees, managing the City's bonds and debt portfolio, and processing and monitoring the City's budget. The department produces regular reports and audits on the City's financial and economic condition and the operations and performance of City government.
About the Whistleblower Program
The Office of the Controller administers a whistleblower program and investigates complaints concerning:
Deficiencies in the quality and delivery of city government services.

Wasteful and inefficient city government practices.

Misuse of city government funds.

Improper activities by city government officers and employees.
The Whistleblower Program responds to specific allegations of administrative wrongdoing by City employees and those who do business with the City. For more information, check out our Frequently Asked Questions.