San Francisco Fraud Hotline Webinar: Evidence Collection for Auditors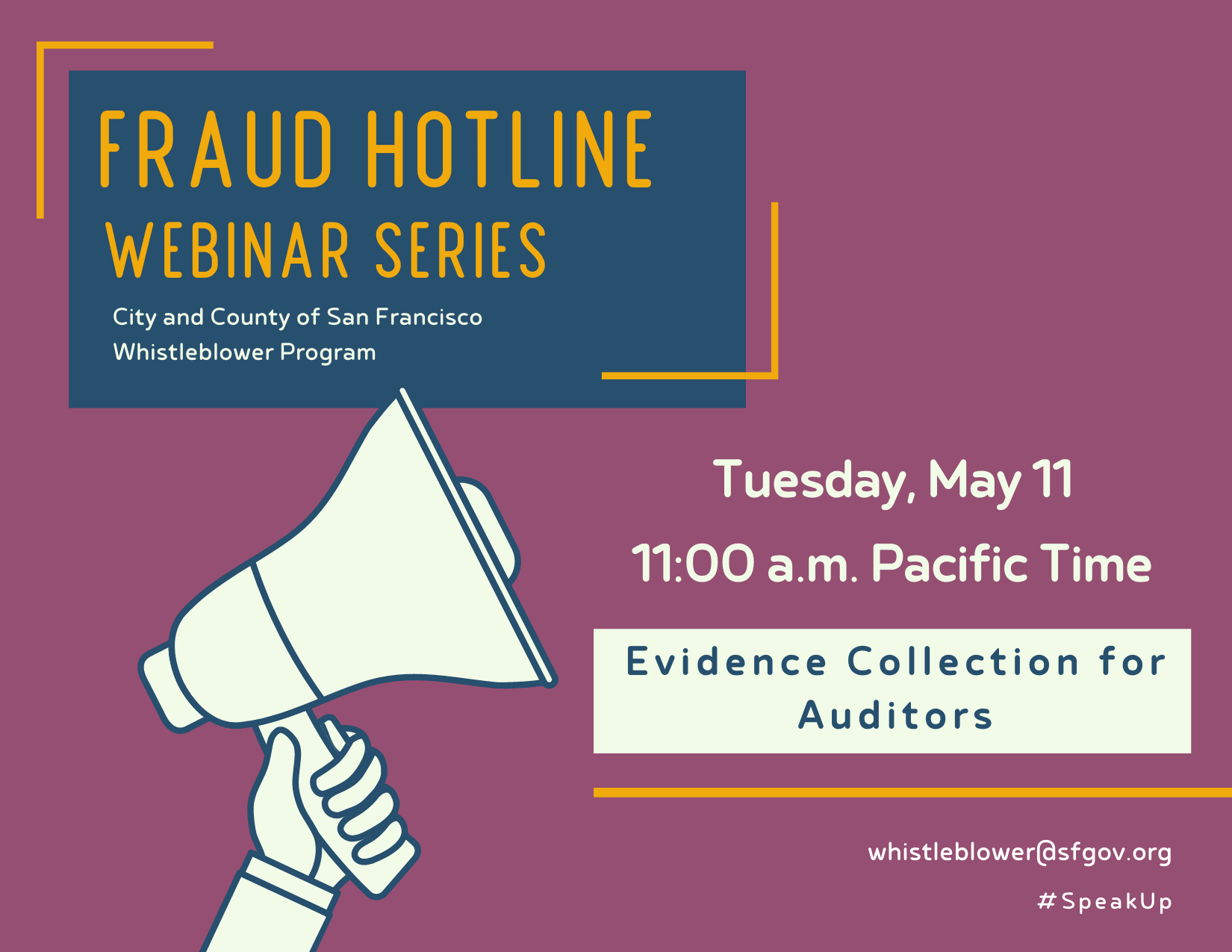 Join us for the next installment of the City and County of San Francisco's Fraud Hotline Webinar Series, airing on May 11, 2021 at 11 a.m. Pacific Time.
Topic: 
Evidence Collection for Auditors
Presenter:
Beth A. Mohr, CFE, CAMS, MPA, CCCI, PI
Managing Partner | The McHard Firm
Evidence Collection for Auditors
This is an audit and I'm an auditor, not an investigator. What do you mean I might have to collect evidence for a criminal case – is that really my job? When should I collect evidence, and how do I do that so a potential criminal investigation is not compromised – especially if I don't yet know whether this will be a criminal case?  Is there some special way that evidence has to be tracked and maintained so that it has the best chance of being admissible in court? What about computers and electronic storage devices – what are the basic steps for dealing with those?  When should I stop what I'm doing and call law enforcement? When should I stop collecting evidence and call in an expert in that particular area, like a computer forensics expert? We will address these and other questions in this one-hour webinar.


You Will Learn How To:
Recognize the different types of physical evidence that are common in fraud examinations and white-collar cases.

Identify factors that affect whether evidence is likely to be admissible at trial and know which of those factors are beyond your control.

Know the best practices for collecting documentary evidence in white-collar crime cases.

Gain a basic knowledge of how to deal with evidence on computers and other electronic storage devices.

Know when to stop what you're doing and call in law enforcement or the experts.
EVENT ACCESS INFORMATION:
The webinar will begin promptly at 11 a.m. Pacific Time. Please log in between 10:50 and 11 a.m. Pacific Time. Access the webinar via Webex here.
Follow the San Francisco Controller's Office @sfcontroller on Twitter and subscribe to our reports.
---
About the Office of the Controller
The Controller's Office works to ensure the City's financial integrity and to promote efficient, effective, and accountable government. We strive to be a model for good government and to make the City a better place to live and work. The Controller's Office is responsible for governance and conduct of key aspects of the City's financial operations, including operating the City's financial systems and issuing its financial procedures, maintaining the City's internal control environment, processing payroll for city employees, managing the City's bonds and debt portfolio, and processing and monitoring the City's budget. The department audits and produces regular reports on the City's financial and economic condition and the operations and performance of city government. 
About the Whistleblower Program
The Office of the Controller administers a whistleblower program and investigates complaints concerning:
Deficiencies in the quality and delivery of city government services.

Wasteful and inefficient city government practices.

Misuse of city government funds.

Improper activities by city government officers and employees.
The Whistleblower Program responds to specific allegations of administrative wrongdoing by City employees and those who do business with the City. For more information, check out our Frequently Asked Questions.