Cannabis Industry Equity Applicants Face Lengthy Permitting Process
Recommendations given to policy makers to help achieve equity goals and ensure successful regulation of the industry
San Francisco, CA — The City Performance Unit of the Controller's Office has released Cannabis in San Francisco, a review of the adult-use cannabis industry since legalization in January 2018.
During the first year of legalization, the Office of Cannabis has undertaken: regulating the existing industry and previously unregulated cannabis industry, implementing the Equity Program, and developing a new cannabis business permit application system and associated multi-departmental approval process. This complex permitting process, combined with a lack of staff resources, has led to a significant permit queue.
The report provides cannabis permitting counts by business type, supervisorial district, and Equity Program status and makes recommendations to improve the permitting process and implementation of the Equity Program.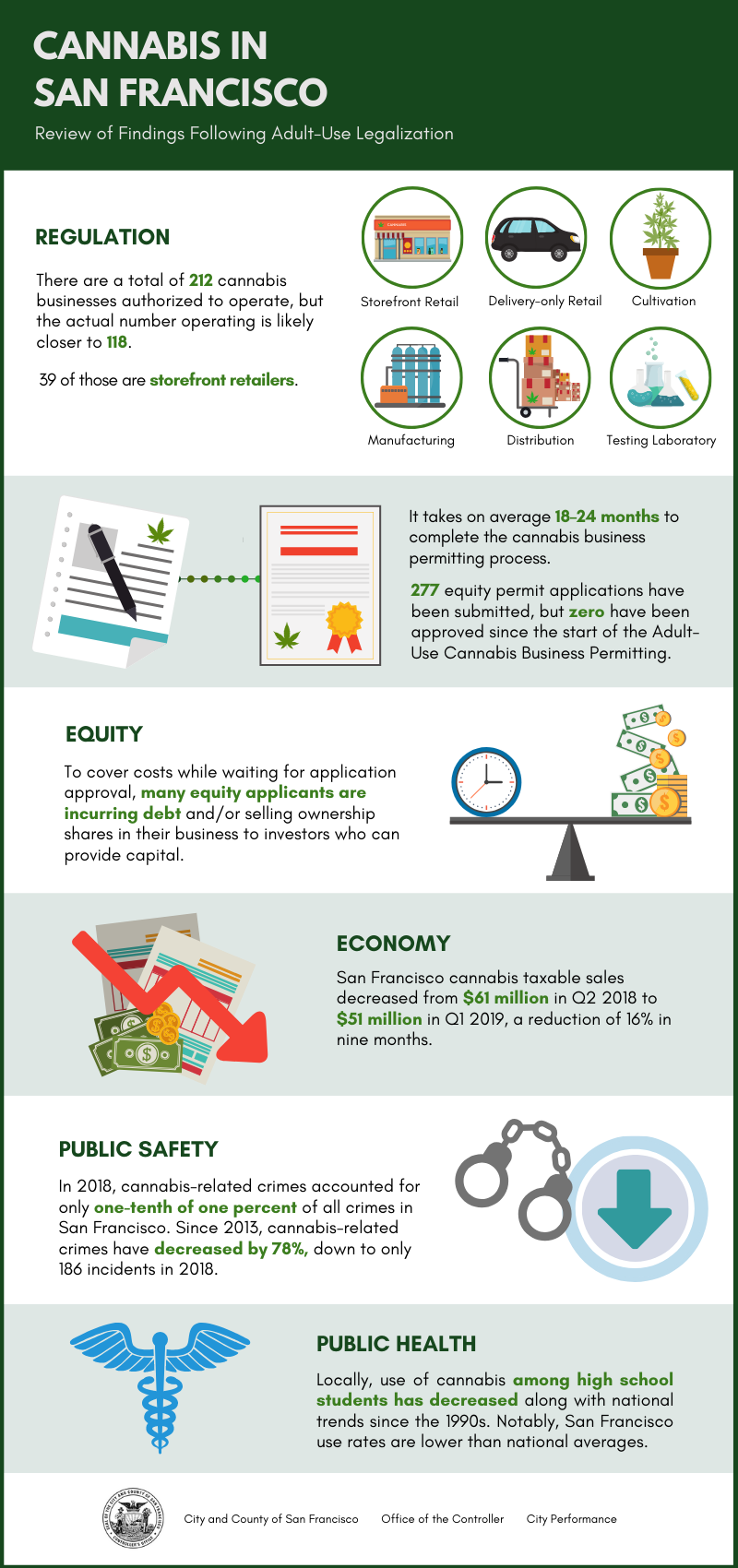 Selected Summary of Recommendations:
The Board of Supervisors and Mayor should consider a moratorium on new storefront retail applications. In addition, they should consider ways to reduce the number of current storefront retail applications in queue, such as offering incentives to change pending storefront retail applications to other business activities.
The Board of Supervisors, Mayor, and departments should consider creating a priority permitting lane or expedited processing for equity applicants in departments other than the Office of Cannabis, including but not limited to: Planning, Police, and Building Inspection.
The Board of Supervisors and City Attorney's Office should consider utilizing the Community Reinvestment Fund to provide technical and capital assistance to equity applicants, including no-interest loan funding, grants, and/or banking options.
The existing legal cannabis market will become increasingly competitive with the entry of equity applicants. The illicit cannabis market, by some estimates, is much larger than the legal market. The city should consider taking significant steps to halt the illicit cannabis market.

​

 
Download the full report here.
For questions about benchmarking, please contact:
Cody Reneau, Office of the Controller, City and County of San Francisco
For all press inquiries, please email Alyssa Sewlal, Communications Manager, at alyssa.sewlal@sfgov.org.
About the Office of the Controller
The Controller's Office works to ensure the City's financial integrity and to promote efficient, effective, and accountable government. We strive to be a model for good government and to make the City a better place to live and work. The Controller's Office is responsible for governance and conduct of key aspects of the City's financial operations, including operating the City's financial systems and procedures, maintaining the City's internal control environment, processing payroll for City employees, managing the City's bonds and debt portfolio, and processing and monitoring the City's budget. The department produces regular reports and audits on the City's financial and economic condition and the operations and performance of City government.
About the City Performance Division
The City Performance Division of the Controller's Office helps departments to:
Make transparent, data-driven decisions in policy development and operational management;

Align programming with resources for greater efficiency and impact; and

Access or create the tools they need to innovate, test, and learn.