To Access Your Paystub via ePayroll
Click the banner below to access your September 17, 2019 pay statement and all subsequent statements through the SF Employee Portal.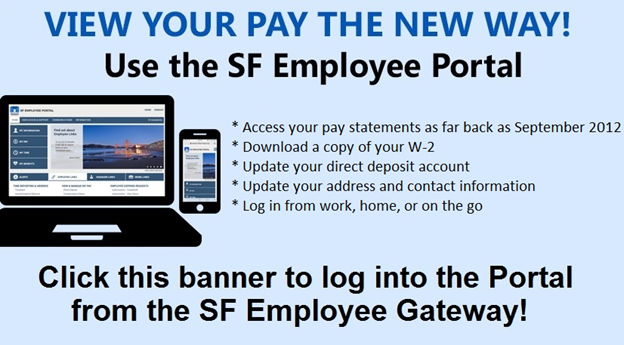 First time using the SF Employee Portal? Click here for step-by-step directions.
CCSF pay statements will only be available via the SF Employee Portal beginning September 17th.
---
TO CONTINUE ACCESSING YOUR PAY STATEMENT VIA ePAYROLL,
FOLLOW THE INSTRUCTIONS BELOW.
 
To Access Your Paystub via ePayroll
ePayroll is a service provided by TALX in partnership with the City and County of San Francisco to provide an electronic copy of your paystub. By clicking on the link below, you will be redirected from the City's website to TALX to access your paystub and ePayroll account.

CLICK HERE TO ACCESS PAY STATEMENTS PRIOR TO AUGUST 2012 VIA EPAYROLL.