Todd Rydstrom, Deputy Controller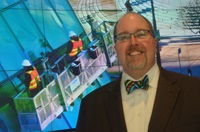 Increasing governmental efficiency and solving public problems are two of the key factors that motivated Todd toward a career in the public sector.

Since December 2014, Todd has served as the Deputy Controller of the City & County, where his leadership duties include Information Technology, Administration, Audits, Human Resources, Payroll, Records Management and Disaster Preparedness. Prior to serving as Deputy Controller, Todd served as the Assistant General Manager & CFO of the San Francisco Public Utilities Commission, where he managed a $1B Operating Budget, $7B Ten Year Capital & Financial Plans, and lead a team of 300 Customer Service, Information Technology, Finance, Human Resources, Fleet Management, Records Management and Assurance & Internal Controls staff for over six years. Before that appointment, Todd also served as Director of Budget, Analysis & Accounting Reconciliation in the Controller's Office, where he managed San Francisco's then $6.1 billion Budget, Revenue, Property Tax, Accounting Reconciliation and Economic Analysis Office, for over six years.

Todd holds an appointment on the San Francisco Federal Credit Union's Supervisory Committee, a $1B not-for-profit, member-owned financial institution with a mission to provide its members with higher earnings on deposits, lower interest rates on loans and fewer fees than banks.

Todd has over 25 years of experience in investment and government finance. His work experience includes private sector investment operations and business development with The Principal Financial Group, one of the largest Fortune 500 pension fund companies in the U.S., as well as other public sector finance and budgeting with Bay Area governments including the City of Emeryville and the City of Oakland.

Todd earned his Master's Degree in Public Policy from the Goldman School of Public Policy at the University of California, Berkeley, where he was awarded the Smolensky Prize for Outstanding Advanced Policy Analysis, UC's top policy analysis award. He earned his undergraduate degree in Finance from Iowa State University and was awarded San Francisco's Public Managerial Excellence Award for outstanding public service in 2006.