SFMTA Needs to Improve Accountability and Collaboration to Avoid Project Delays and Overspending, Audit Finds
San Francisco, CA (February 16, 2021) — The San Francisco Municipal Transportation Agency (SFMTA) has a 20-year capital plan that requires the participation of various SFMTA divisions and stakeholders and includes $31 billion in capital needs, but the agency is hamstrung in executing the plan due to internal shortcomings, according to a newly released city audit. The Controller's Office audit assessed whether SFMTA's collaboration, communication, and decision-making processes help three of its divisions – Construction, Transit, and Finance – plan and deliver capital projects on time and on budget.
The audit found that SFMTA's communication and collaboration problems contributed to delays of up to 1.7 years and cost overruns of up to $9 million for four sample projects. Inadequate processes undermine collaboration, communication, and accountability, including processes for employee evaluations, training, oversight by the department's Transportation Capital Committee, and stakeholder reviews during the design phase, according to the report.
The report urges SFMTA to reinforce agency and individual accountability and promote a culture of collaboration by improving these processes and making better use of its data and technology. SFMTA states that it agrees with the report's 16 recommendations and plans to implement all of them.
Download the full report here.
View the fact sheet.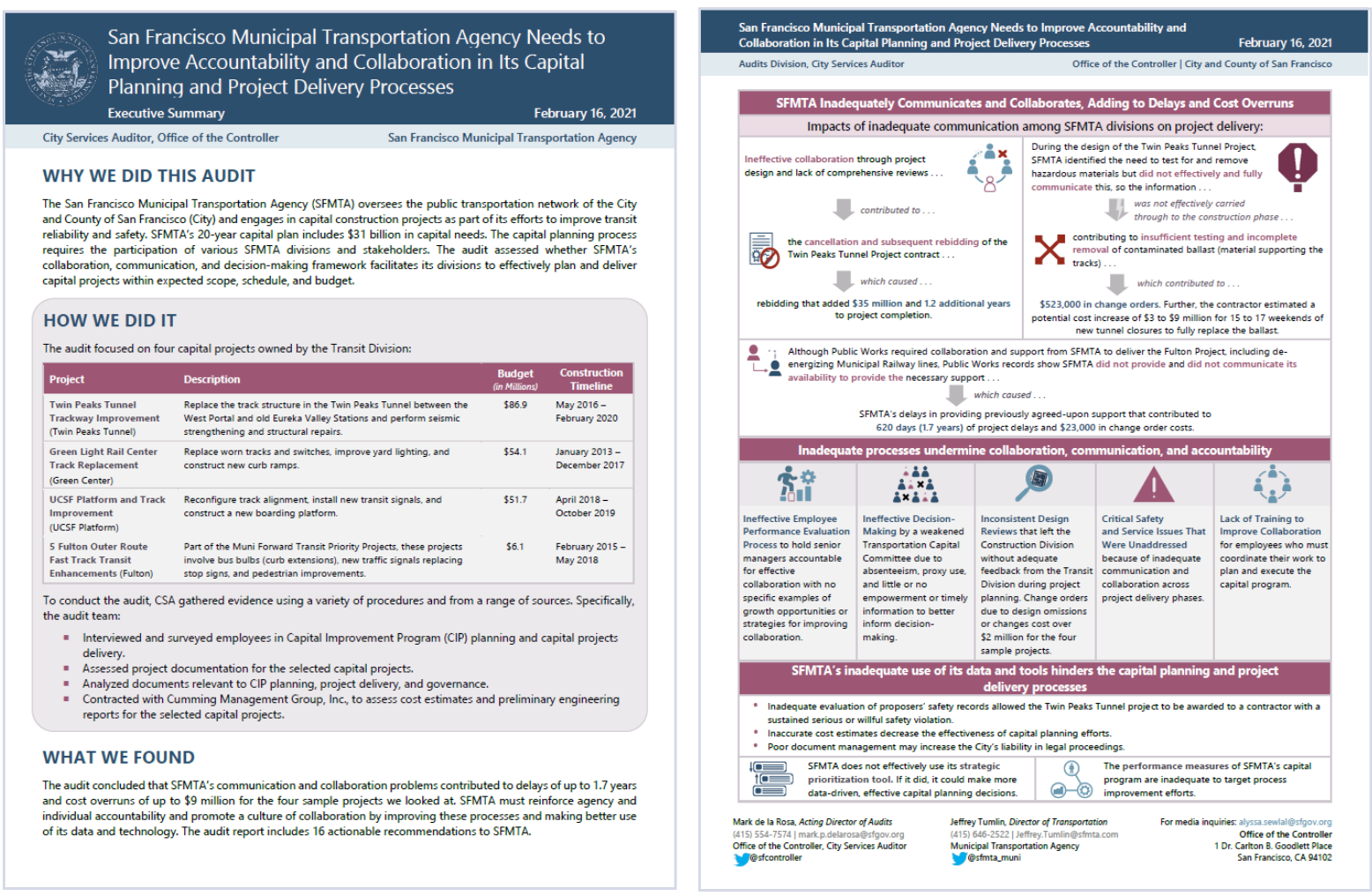 For questions, please contact Acting Director of Audits Mark de la Rosa at mark.p.delarosa@sfgov.org.
For all press inquiries, please contact Communications Manager Alyssa Sewlal at alyssa.sewlal@sfgov.org.
Follow the San Francisco Controller's Office @sfcontroller on Twitter and subscribe to our reports.
---
About the Office of the Controller
The Controller's Office works to ensure the City's financial integrity and to promote efficient, effective, and accountable government. We strive to be a model for good government and to make the City a better place to live and work. The Controller's Office is responsible for governance and conduct of key aspects of the City's financial operations, including operating the City's financial systems and procedures, maintaining the City's internal control environment, processing payroll for city employees, managing the City's bonds and debt portfolio, and processing and monitoring the City's budget. The department produces regular reports and audits on the City's financial and economic condition and the operations and performance of city government.