San Francisco Performance Program
About Us
In 2000, the Controller's Office began working with all City departments to collect performance data. In November 2003, San Francisco voters passed Proposition C and mandated the Controller's Office to monitor the level and effectiveness of services provided by the City and County of San Francisco.
The Citywide Performance Measurement Program is housed in the City Performance Unit of the Controller's Office's
City Services Auditor
Division. The goal of the Citywide Performance Measurement Program is to work with departments to create reliable and easy-to-use performance data. Performance data is important because it helps the City and its residents make efficient, effective, and thoughtful operational and resource decisions.

San Francisco has been recognized by the International City/County Management Association (ICMA) Center for Performance Analytics for efforts related to performance management with the Certificate of Distinction in 2009 and 2010, and with the Certificate of Excellence, the highest level awarded, in 2011, 2013, 2015 and 2016. Winners of the Certificate of Excellence must demonstrate a strong background in the reporting of performance data, a commitment to tracking and reporting to key public outcomes, and the use of performance data in strategic planning and decision-making.
Goals
Work with all city departments to develop meaningful performance measures
Track performance data using a centralized database, and publish reports to demonstrate department and city-wide performance
Make performance information accessible to the public
Promote the use of accurate and timely information to inform decision-making and day-to-day management with departments
Reports
---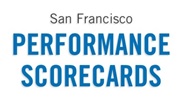 San Francisco Performance Scorecards

The San Francisco Performance Scorecards provide the public with data-driven assessments of government services and overall city performance. Scorecards increase government transparency and promote accountability by revealing areas where San Francisco is doing well and where it needs improvement. The scorecards cover eight different service areas including public safety, public health, livability, safety net, transportation, environment, economy, and public finance. Each scorecard contains a number of measures that capture important trends affecting San Franciscans. They are used by the public, elected leadership, and department leadership to drive results, inform decision-making, and deliver greater value to citizens. Scorecards are a collaboration of the Mayor's Office and Controller's Office, and replaces the quarterly Government Barometer. The scorecard website is available at www.sfgov.org/scorecards.
Government Barometer 
Until the launch of the San Francisco Performance Scorecards, the quarterly Government Barometer was used to report key performance and activity measures in order to increase transparency, create dialogue, and build the public's confidence regarding the City's management of public business. The final Government Barometer was published in November 2015. The quarterly summary and interactive graphics are available at http://sfgovbar.weebly.com/.
Past Government Barometer Reports 
Fiscal Year 2015-16 Q1 (July-September 2015)
Annual Performance Report
The Citywide Performance Measurement Program Annual Report provides annual performance data for all 48 City departments. Citywide performance data includes over 1,000 performance measures that report on the effectiveness and efficiency of departments' major goals and activities.
Benchmarking
The City and County of San Francisco Charter requires the City Services Auditor (CSA) to monitor the level and effectiveness of City services. Specifically, CSA shall review performance and cost benchmarks, and conduct comparisons of the cost and performance of San Francisco City government with other cities, counties, and public agencies performing similar functions.
Street, Sidewalk, and Park Maintenance Standards
Since July 2004, the Controller's Office City Service Auditor Division has work with the Recreation and Parks Department and the Department of Public Works to develop maintenance standards and inspect for compliance.
DataSF
DataSF seeks to enable the use of the City's data. Its core product, SF OpenData, serves as the central clearinghouse for all data published by the City and County of San Francisco.   
Resources
---
PM System
The PM System is the data-entry tool used by the PM Team and Departments to enter performance data. For security purposes, access is limited to select department personnel.
Guide to Good Measures
The "Guide to Good Measures" explains in detail what constitutes good performance measures, provides tools for developing good measures, and discusses the importance and value of having good performance measures.  
Contacts
---
The PM Team is led by Project Manager Natasha Mihal, and supported by Performance Analysts Celeste Berg and Ashley Groffenberger.
Natasha Mihal -
Natasha.Mihal@sfgov.org
Celeste Berg -
Celeste.Berg@sfgov.org
Ashley Groffenberger -
Ashley.Groffenberger@sfgov.org