San Francisco Needs To Improve The Way It Oversees Its Procurement And Use Of Surveillance Technology
San Francisco, CA (August 3, 2021) — In June 2019 San Francisco became the first major city in the United States to ban the local government from using facial recognition technology when the City's Acquisition of Surveillance Technology Ordinance became law. The ordinance aims to promote transparency, protect the privacy rights of residents and businesses, and initiate a public discussion on government surveillance.
To fulfill these goals, the ordinance requires city departments to disclose surveillance technologies they use and to obtain permission before procuring or using any new surveillance technology or data. The Controller's Office conducted an audit to determine whether city departments have complied with the ordinance.
Based on the audit's findings, the report recommends changes to current processes that should result in stronger protections for the public, more accurate inventories, and better use of departments' time and resources.
Download the full report here.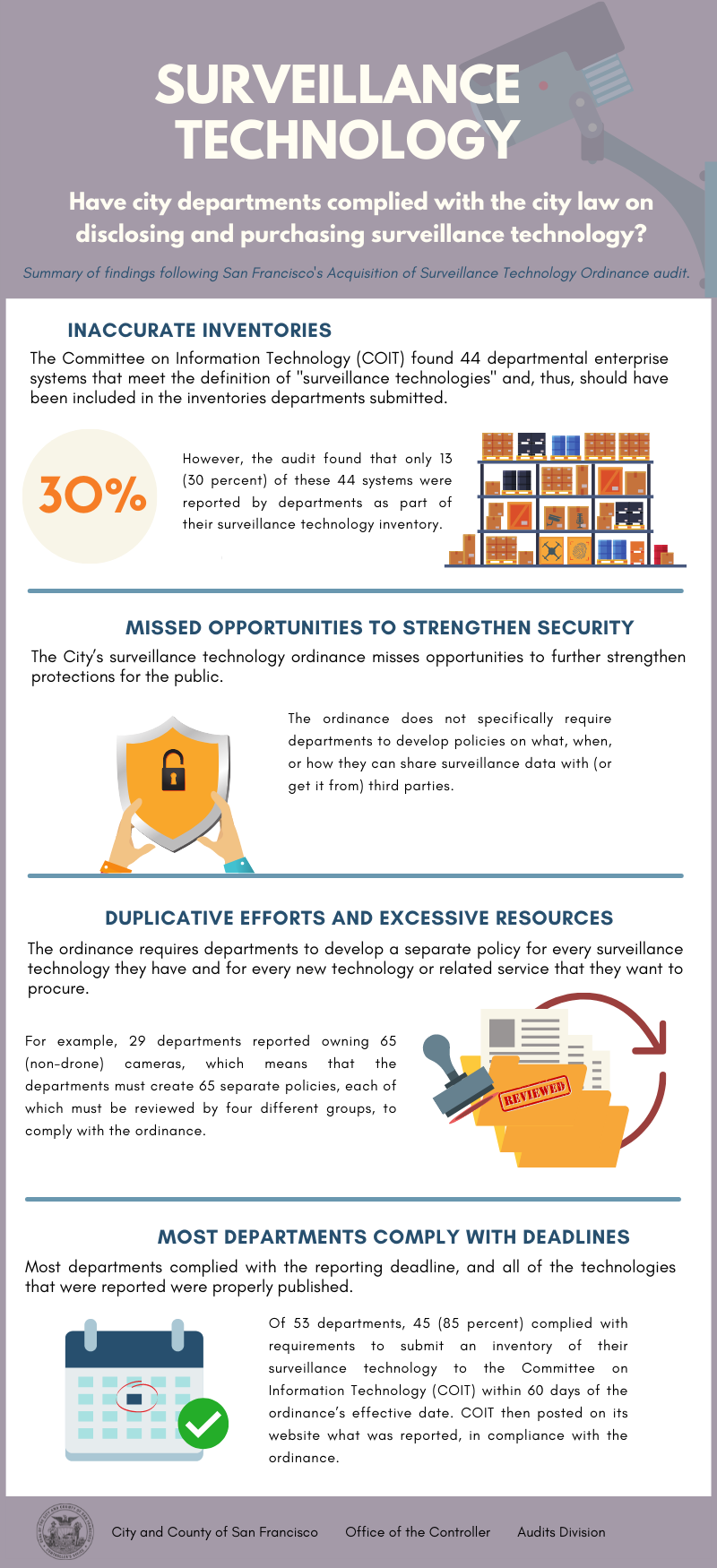 For questions, please contact Acting Director of Audits Mark de la Rosa at mark.p.delarosa@sfgov.org.
For all press inquiries, please contact Communications Manager Alyssa Sewlal at alyssa.sewlal@sfgov.org.
Follow the San Francisco Controller's Office @sfcontroller on Twitter and subscribe to our reports.
---
About the Office of the Controller
The Controller's Office works to ensure the City's financial integrity and to promote efficient, effective, and accountable government. We strive to be a model for good government and to make the City a better place to live and work. The Controller's Office is responsible for governance and conduct of key aspects of the City's financial operations, including operating the City's financial systems and procedures, maintaining the City's internal control environment, processing payroll for city employees, managing the City's bonds and debt portfolio, and processing and monitoring the City's budget. The department produces regular reports and audits on the City's financial and economic condition and the operations and performance of city government.