San Francisco Fraud Hotline Webinar: Effective Communication in Fraud Investigation Reporting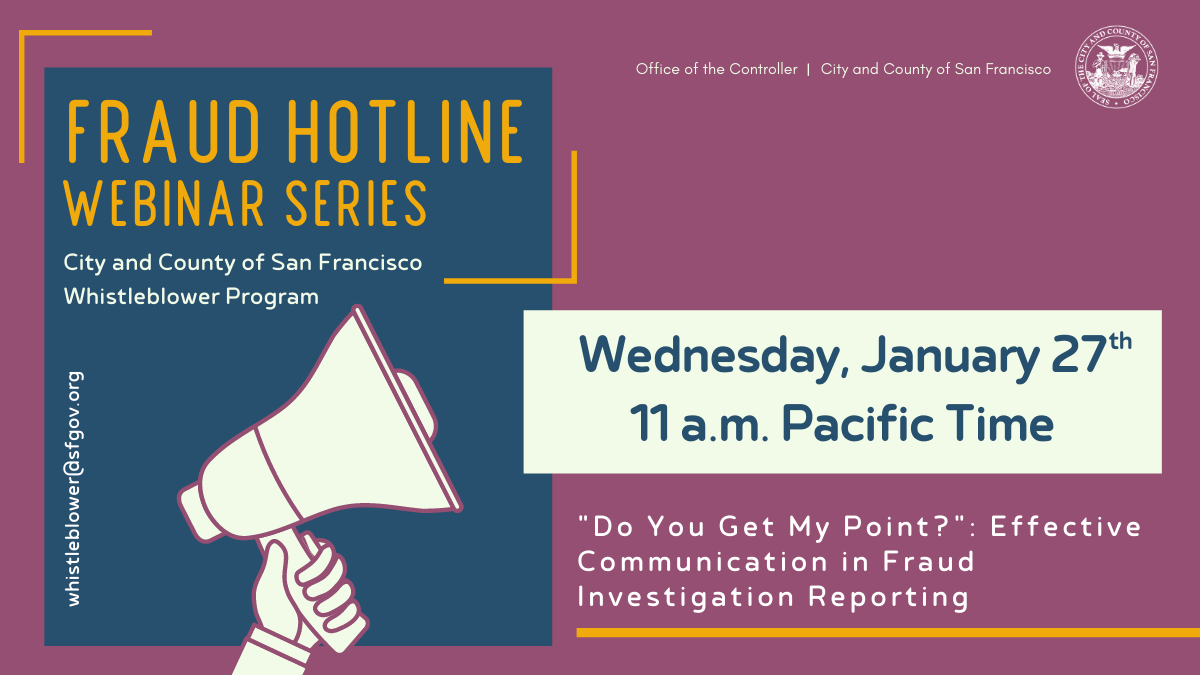 Join us for the next installment of the City and County of San Francisco's Fraud Hotline Webinar Series, airing on January 27, 2021 at 11 a.m. Pacific Time.
Topic: 
"Do You Get My Point?": Effective Communication in Fraud Investigation Reporting
Presenter:
Paul McEwen, CFE, CPA, CA, CBV
President | McEwen Valuation & Forensic
Description:
Communicating the results of fraud investigations effectively is a challenging but critical skill. Whether writing the investigation report or preparing to give oral evidence in court, many practitioners struggle with the key step of taking information (often technical) that they know and understand well and communicating it in a way that doesn't cause the audience to feel confused, bored, skeptical, or worst of all, sleepy. 
The good news is that there are some best practices to follow in organizing and presenting fraud investigation findings that can significantly improve the audience's or reader's experience and comprehension. This presentation will provide practical suggestions as to what to consider before "putting hands to keyboard" or heading to the podium. Using case examples and drawing on Paul's background in psychology, including memory and cognition, he will provide ideas on report structure and list some common grammatical bad habits that often hamper comprehension and distract readers or listeners.  
This presentation addresses the following:
Language and semantics

Effective report structures

Psychology and the fraud investigation report

Common usage and grammar challenges
EVENT ACCESS INFORMATION:
The webinar will begin promptly at 11 a.m. Pacific Time. Please log in between 10:50 and 11 a.m. Pacific Time. Access the webinar via Webex here.
Follow the San Francisco Controller's Office @sfcontroller on Twitter and subscribe to our reports.
---
About the Office of the Controller
The Controller's Office works to ensure the City's financial integrity and to promote efficient, effective, and accountable government. We strive to be a model for good government and to make the City a better place to live and work. The Controller's Office is responsible for governance and conduct of key aspects of the City's financial operations, including operating the City's financial systems and issuing its financial procedures, maintaining the City's internal control environment, processing payroll for city employees, managing the City's bonds and debt portfolio, and processing and monitoring the City's budget. The department audits and produces regular reports on the City's financial and economic condition and the operations and performance of city government. 
About the Whistleblower Program
The Office of the Controller administers a whistleblower program and investigates complaints concerning:
Deficiencies in the quality and delivery of city government services.

Wasteful and inefficient city government practices.

Misuse of city government funds.

Improper activities by city government officers and employees.
The Whistleblower Program responds to specific allegations of administrative wrongdoing by City employees and those who do business with the City. For more information, check out our Frequently Asked Questions.