Lean Team Named Runner-Up for Global Public Service Team of the Year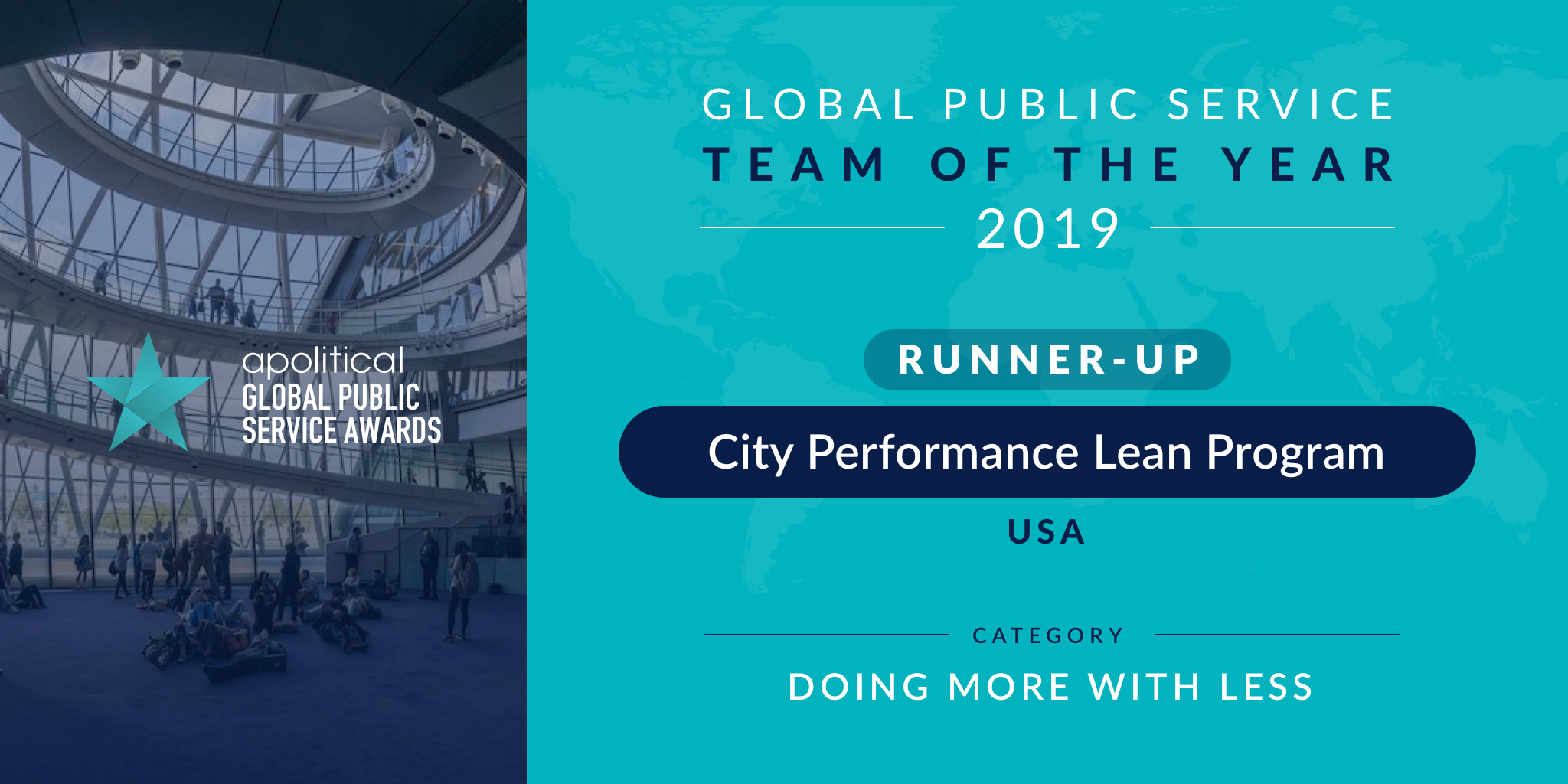 San Francisco, CA — After being shortlisted as one of five international contenders, the Controller's City Performance Lean Program has been named runner-up for Apolitical's 2019 Global Public Service Team Award in the Doing More with Less category! Thousands voted internationally and selected teams for recognition of their outstanding work.
The City Performance Lean Program trains public servants to identify simple, low- or no-cost solutions that improve the daily lives of staff and citizens by using lean methodology. The team also coaches executives and managers to treat their staff as problem-solvers and create a culture of continuous improvement by bringing front-line staff face-to-face with strategic performance measures in daily huddles and then soliciting their feedback about what can be done better.
The Controller's Office wishes to congratulate the winners and nominees in all categories and thanks Apolitical for their recognition of "the huge breadth of work public servants do across governments, from tackling climate change to promoting equality to doing the behind the scenes work that keeps governments running."
Learn more about the Lean Team and how you can partner with them.
Follow the San Francisco Controller's Office @sfcontroller on Twitter and subscribe to our reports.
---
About the Office of the Controller
The Controller's Office works to ensure the City's financial integrity and to promote efficient, effective, and accountable government. We strive to be a model for good government and to make the City a better place to live and work. The Controller's Office is responsible for governance and conduct of key aspects of the City's financial operations, including operating the City's financial systems and procedures, maintaining the City's internal control environment, processing payroll for City employees, managing the City's bonds and debt portfolio, and processing and monitoring the City's budget. The department produces regular reports and audits on the City's financial and economic condition and the operations and performance of City government.
About the City Performance Division
The City Performance Division of the Controller's Office helps departments to:
Make transparent, data-driven decisions in policy development and operational management;

Align programming with resources for greater efficiency and impact; and

Access or create the tools they need to innovate, test, and learn.