Gifts to Departments Through Non-City Organizations Lack Transparency and Create "Pay-to-Play" Risk
San Francisco, CA (September 24, 2020) — The Controller's Office today released a preliminary assessment report on non-city organizations controlled by and/or benefitting city departments, including Friends of organizations. The assessment, which is the second in a series of planned reviews, lays out recommendations to improve transparency, reduce the risk of fraud, and safeguard public funds.
In this assessment, we focus on San Francisco Parks Alliance and its relationship with San Francisco Public Works because of the criminal investigation of Mr. Nuru, who, as the former Public Works director, allegedly solicited donations from private companies or individuals to the Parks Alliance and allegedly influenced decisions about whom the Parks Alliance would pay.
Download the full report here.
View the press release: 

Office of the Controller Press Release_Non-City and Friends of Organizations 9.24.20.pdf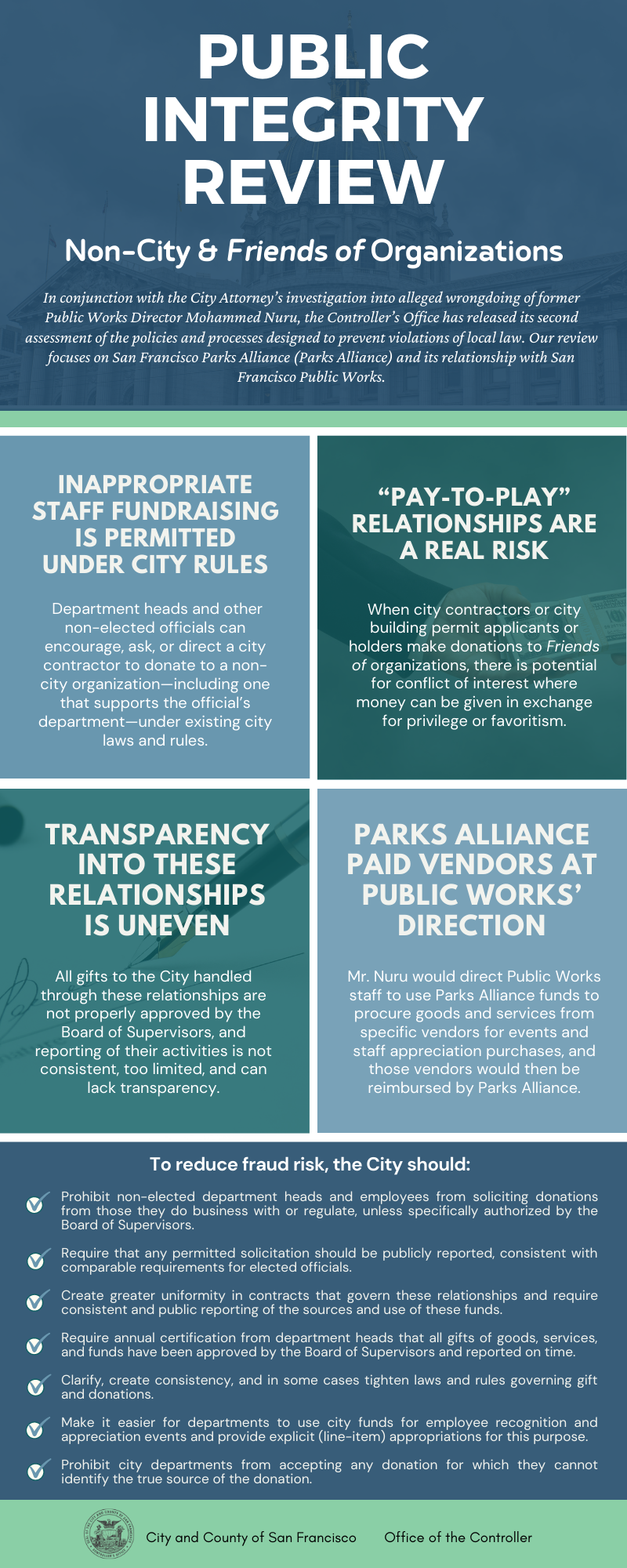 What happens next?
Our Public Integrity Review of inadequate policies and procedures exposed in the Nuru investigation will continue, with future assessments on: ethical practices in contract award decisions at the Airport and other commissions; the design and application of the City's contractor debarment process; the Department of Building Inspection's permitting process; and other issues. Those assessments will be released in phases as our work moves ahead in coming months, and additional topics added as the investigation progresses.
Tips
Investigators from both the Controller's Office and City Attorney's Office work hand-in-hand with the public and City employees to fight abuses to public integrity citywide. To report suspected public integrity abuses regarding this investigation, please contact the Public Integrity Tip Line. You can provide information via e-mail at publicintegrity@sfgov.org or by phone at (415) 554-7657. All tips may be submitted anonymously and will remain confidential. Information regarding City payments, searchable by department and vendor, are available on the Controller's public transparency website at openbook.sfgov.org. As always, any member of the public may file any allegation of improper or illegal public activity with the City's Whistleblower Program at sfcontroller.org/whistleblower-program. That program, administered by the Controller's Office, often partners with the City Attorney's Office on investigations.
For questions, please contact:
City Controller Ben Rosenfield at ben.rosenfield@sfgov.org.  
For all press inquiries, please email Alyssa Sewlal, Communications Manager, at alyssa.sewlal@sfgov.org.
SUBSCRIBE TO REPORTS & UPDATES
---
About the Office of the Controller
The Controller's Office works to ensure the City's financial integrity and to promote efficient, effective, and accountable government. We strive to be a model for good government and to make the City a better place to live and work. The Controller's Office is responsible for governance and conduct of key aspects of the City's financial operations, including operating the City's financial systems and procedures, maintaining the City's internal control environment, processing payroll for City employees, managing the City's bonds and debt portfolio, and processing and monitoring the City's budget. The department produces regular reports and audits on the City's financial and economic condition and the operations and performance of City government.