FY21 Data Set and New Interactive Dashboard on San Francisco Government Citywide Performance
San Francisco, CA (December 15, 2021) —  Since 2003, the Controller's Office Performance Program has annually coordinated the collection and reporting of performance results for all City departments to monitor the level and effectiveness of public services provided by the City and County of San Francisco. The information we track is published and shared with City leadership to help deliver services efficiently and support public policy making. 
The Controller's Office is pleased to announce that as of today, the City's FY21 performance data is available to everyone through DataSF — San Francisco's open data portal — in easy-to-use interactive dashboards. 
View the press release.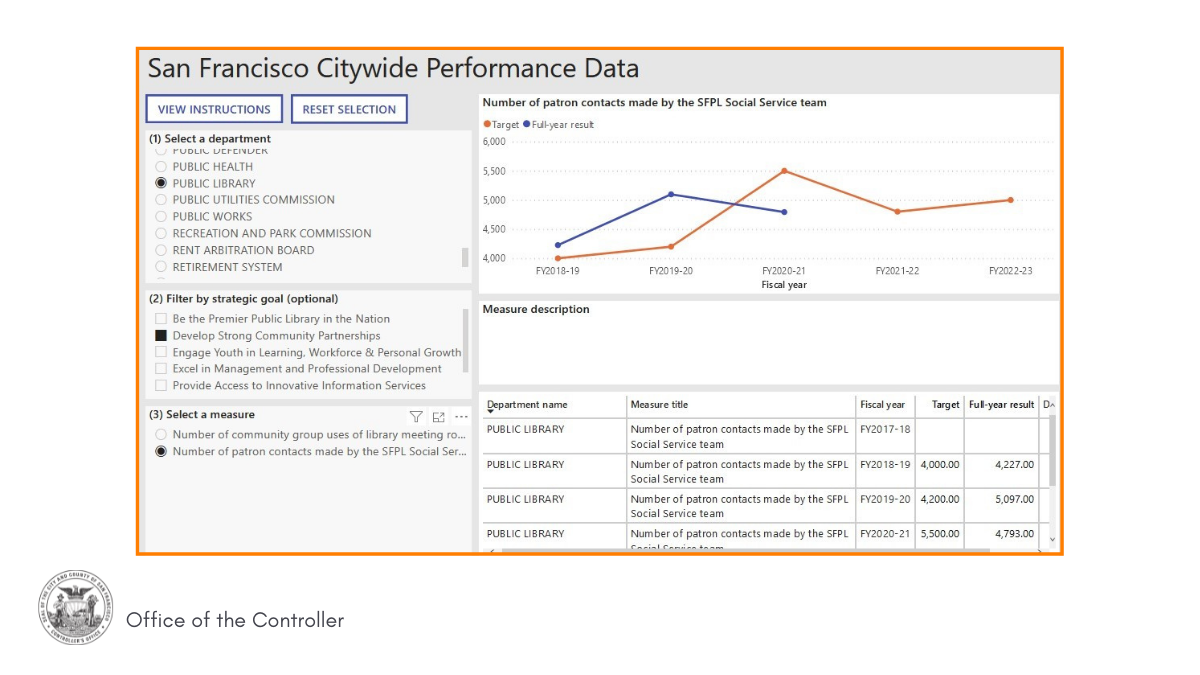 In previous years, the Controller's Office published annual reports summarizing performance metrics and their results. These reports are available on the Controller's Office website. Our new interactive dashboards came about because we heard from readers that they wanted to connect directly with the data to understand it better or use it in their own reporting. With this new data set and dashboards, any user can view, download, or query performance data for over 800 metrics from departments across the City. For example, looking at the San Francisco Public Library, users can toggle through different strategic goals — like providing access to innovative information services — and then view the specific measures associated with those goals over different time periods.

The data users can click through covers four fiscal years beginning July 1, 2017 and ending June 30, 2021. Most City departments also provide estimates or targets for two fiscal years into the future beginning July 1, 2021 and ending June 30, 2023. Most results are updated twice each year. Results for July–December 2021 will be added in the spring of 2022, and results for the full fiscal year (i.e., July 2021 through June 2022) will be published in the fall of 2022. 
 

For questions about the data, please email performance.con@sfgov.org.
For all press inquiries, please contact Communications Manager Alyssa Sewlal at alyssa.sewlal@sfgov.org.
Follow the San Francisco Controller's Office @sfcontroller on Twitter and subscribe to our reports.
---
About the Office of the Controller
The Controller's Office works to ensure the City's financial integrity and to promote efficient, effective, and accountable government. We strive to be a model for good government and to make the City a better place to live and work. The Controller's Office is responsible for governance and conduct of key aspects of the City's financial operations, including operating the City's financial systems and issuing its financial procedures, maintaining the City's internal control environment, processing payroll for city employees, managing the City's bonds and debt portfolio, and processing and monitoring the City's budget. The department audits and produces regular reports on the City's financial and economic condition and the operations and performance of city government.
About the City Performance Division
The City Performance Division of the Controller's Office helps departments to:
Make transparent, data-driven decisions in policy development and operational management

Align programming with resources for greater efficiency and impact

Access or create the tools they need to innovate, test, and learn