CONTROLLER'S OFFICE SYSTEMS DIVISION
This site supports inter-departmental collaboration and communication on all things PeopleSoft!
Please don't hesitate to contact us at Con.Systems@sfgov.org.
 
Knowledge Resources & Training:
Visit the Knowledge Center to access our database of knowledge articles. 
 
Supplier Information:
Have a supplier-related question? Check out the Supplier Portal as well as the Supplier Handbook. 
 
User Support:
Having trouble? Contact us at (415)-944-2442 or email at SFEmployeePortalSupport@sfgov.org
About the Systems Division
Systems Division Overview
The Systems Division of the Controller's Office manages the City and County of San Francisco's Enterprise Oracle and PeopleSoft Applications, which are branded locally as our People & Pay, Learning, Financials, Procurement, and Reports and Analytics systems. These applications provide a robust, integrated platform that delivers mission-critical services to 65 City Departments, eliminating the need for hundreds of independent legacy systems and customized applications. The division serves over 35,000 active City employees, 75,000 retirees, and 25,000 city suppliers with our centralized and integrated systems. The technology implemented and maintained by the Systems Division provides standardization, transparency, and efficiency for the City's crucial business processes. Users are fully supported to ensure adoption of these interconnected functionalities. This is the layout of our product lines and support teams: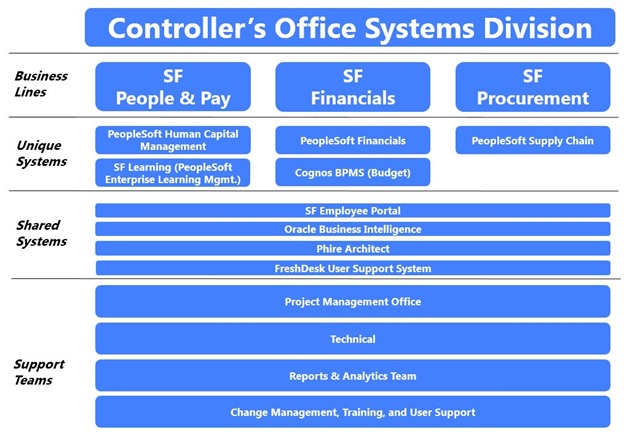 Systems Division Scope
The following modules are in the scope of the Systems Division:


Systems Division Governance
Systems Division governance is organized to build a shared fluency and adoption of the City's enterprise systems supported by the Controller's Office. The Advisory Boards will represent the Systems Division five business lines: Financials, Procurement, Reports & Analytics, People & Pay, and Learning. Advisory Boards will form short-term Working Groups to conduct deep dives into critical issues with department Local Expert Groups