Controller's Office Releases Annual Performance Results on City's Public Services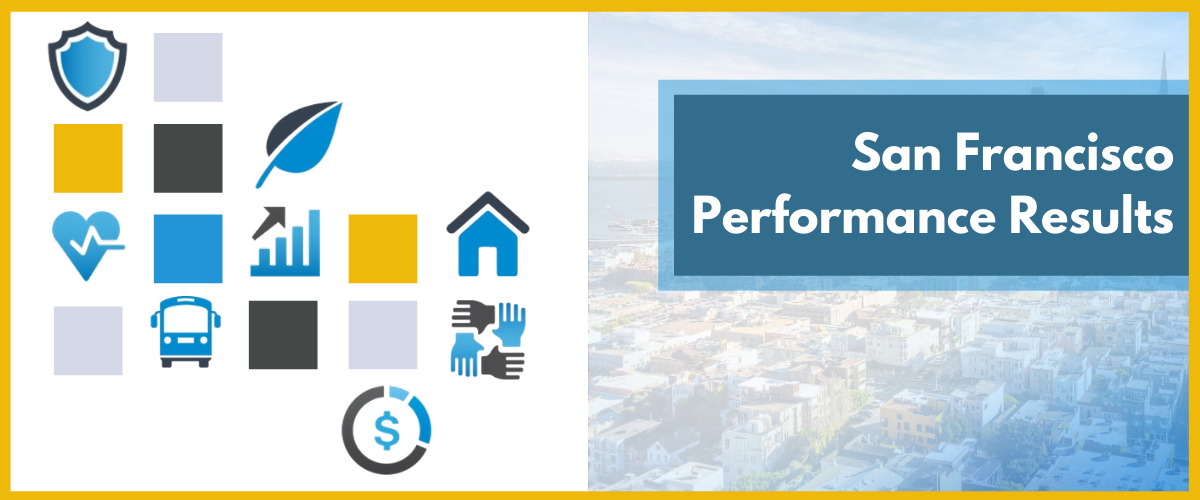 Report summarizes the delivery of resident services in San Francisco between July 2018 and June 2019 and provides highlights of the San Francisco Performance Scorecards
San Francisco, CA — The City Performance Unit of the Controller's Office has released the San Francisco Annual Performance Results for FY19.
The information we gather and analyze in this report is shared with City leadership so that they can make the best possible decisions about how to deliver services efficiently, effectively and strategically to residents.
The report provides highlights of the San Francisco Performance Scorecards, which communicate more frequent updates for approximately 80 indicators in eight service areas: Livability, Public Health, Safety Net, Public Safety, Transportation, Environment, Economy, and Finance. The most recent annual results for those indicators are summarized in this report. The goal of the Scorecards is to provide monthly updates that make government smarter and more effective while delivering the best results for taxpayers. As such, policy makers are encouraged to regularly monitor and refer to our Scorecards to see where their performance currently sits in respect to their service targets.
This year, we've included "In Focus" cards for five of the eight service areas. Each card highlights ongoing work around issues impacting San Franciscans, presents data that helps explain performance, and connects readers with resources for more information.

Learn more on new cleanliness standards, Pit Stops, who cleans San Francisco's streets, and how Public Works is responding to cleaning requests. 

In Focus - Clean Streets.pdf

Learn more on  the spectrum of care provided by the Department of Public Health, client outcomes, mental health reforms, and primary care-behavioral health integration. 

In Focus - Behavioral Health.pdf

Learn more on the point-in-time count of people experiencing homelessness in San Francisco, the goals established to achieve a significant and sustained reduction in homelessness, and programs to support people exiting homelessness. 

In Focus - Homelessness.pdf

Learn more on how fast the SFPD are responding to 9-1-1 calls, how officers prioritize calls, and the innovate ways San Francisco is redefining response times. 

In Focus - Police Response.pdf

Learn more on San Francisco's new traffic safety measures, collision reporting improvements, and "Focus on the Five" – all part of the City's goal to eliminate traffic fatalities and reduce severe injuries. 

In Focus - Vision Zero.pdf 
Download the full report here. 
For questions about reporting results, please contact:
City Performance Team, Office of the Controller at Performance.Con@sfgov.org.  
For all press inquiries, please email Alyssa Sewlal, Communications Manager, at alyssa.sewlal@sfgov.org.
Follow the San Francisco Controller's Office @sfcontroller on Twitter and subscribe to our reports.
About the Office of the Controller
The Controller's Office works to ensure the City's financial integrity and to promote efficient, effective, and accountable government. We strive to be a model for good government and to make the City a better place to live and work. The Controller's Office is responsible for governance and conduct of key aspects of the City's financial operations, including operating the City's financial systems and procedures, maintaining the City's internal control environment, processing payroll for City employees, managing the City's bonds and debt portfolio, and processing and monitoring the City's budget. The department produces regular reports and audits on the City's financial and economic condition and the operations and performance of City government.
About the City Performance Division
The City Performance Division of the Controller's Office helps departments to:
Make transparent, data-driven decisions in policy development and operational management;

Align programming with resources for greater efficiency and impact; and

Access or create the tools they need to innovate, test, and learn.