CCSF ePayroll – Online Pay Statements
Click the banner below to access your September 17, 2019 pay statement and all subsequent statements through the SF Employee Portal.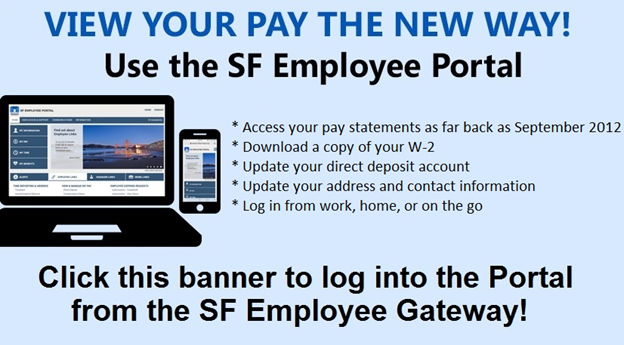 First time using the SF Employee Portal? Click here for step-by-step directions.
CCSF pay statements will only be available via the SF Employee Portal beginning September 17th.
---
TO CONTINUE ACCESSING YOUR PAY STATEMENT VIA ePAYROLL,
FOLLOW THE INSTRUCTIONS BELOW.

Click here to review your pay statement on CCSF ePayroll
provided by the City and County of San Francisco and TALX prior to August 2012.
Direct Deposit

Direct Deposit Authorization Form

www.bankonsf.org   Bank On San Francisco - Makes it Easy to Get a Bank Account
 Online Paystub

 FAQ: Frequently Asked Questions

 Using CCSF ePayroll by Phone (PDF)

If you are having difficulty using your Employee ID and PIN to access ePayroll, please call the following toll-free customer support number between 6 a.m. and 6 p.m.: 1-866-314-3729
User Tips for ePayroll
The CCSF ePayroll Employee ID is your DSW number on the back of your City ID badge. Your DSW number could be on your department ID (Rec/Park) or your department's self service page (Police & Fire)
Your PIN is 8 to 16 numbers only
If you have questions regarding your pay information, please contact your
department payroll office
Bookmark this page or add it to your Favorites for easy future access