Ben Rosenfield, Controller
Benjamin Rosenfield serves as the City Controller. Mr. Rosenfield was appointed to a 10-year term as Controller by Mayor Gavin Newsom and confirmed by the Board of Supervisors in March 2008.
 
As Chief Fiscal Officer and Auditor, he provides fiscal management oversight of a $8.6 billion budget and is responsible for budgetary planning and monitoring of the receipt, collection and disbursement of City funds. The City Controller is responsible for the City's financial management systems, internal controls and reports, provides public policy and economic analyses, estimates the cost of ballot measures, provides payroll services for the City's employees and directs performance and financial audits of City activities.
Before becoming Controller, Mr. Rosenfield served as the Deputy City Administrator under City Administrator Edwin Lee from 2005 to 2008. He was responsible for preparation and monitoring of the City's 10-year capital plan, oversight of a number of internal service offices under the City Administrator, and implementing the City's new 311 non-emergency customer service center. From 2001 to 2005 Mr. Rosenfield worked as the Budget Director for then-Mayor Willie L. Brown, Jr. and Mayor Gavin Newsom. As Budget Director, Mr. Rosenfield prepared the City's proposed budget for each fiscal year and served on behalf of the Mayor to manage city spending during the course of each year. From 1997 to 2001 Mr. Rosenfield performed as an analyst in the Mayor's Budget Office and as a project leader in the Controller's Office.
Mr. Rosenfield succeeds Edward Harrington who served as the Controller, following the Mayor's appointment of Mr. Harrington to the position of General Manager of the San Francisco Public Utilities Commission.
 
Todd Rydstrom, Deputy Controller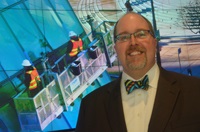 Increasing governmental efficiency and solving public problems are two of the key factors that motivated Todd toward a career in the public sector.

Since December 2014, Todd has served as the Deputy Controller of the City & County, where his leadership duties include Information Technology, Administration, Audits, Human Resources, Payroll, Records Management and Disaster Preparedness. Prior to serving as Deputy Controller, Todd served as the Assistant General Manager & CFO of the San Francisco Public Utilities Commission, where he managed a $1B Operating Budget, $7B Ten Year Capital & Financial Plans, and lead a team of 300 Customer Service, Information Technology, Finance, Human Resources, Fleet Management, Records Management and Assurance & Internal Controls staff for over six years. Before that appointment, Todd also served as Director of Budget, Analysis & Accounting Reconciliation in the Controller's Office, where he managed San Francisco's then $6.1 billion Budget, Revenue, Property Tax, Accounting Reconciliation and Economic Analysis Office, for over six years.

Todd holds an appointment on the San Francisco Federal Credit Union's Supervisory Committee, a $1B not-for-profit, member-owned financial institution with a mission to provide its members with higher earnings on deposits, lower interest rates on loans and fewer fees than banks.

Todd has over 25 years of experience in investment and government finance. His work experience includes private sector investment operations and business development with The Principal Financial Group, one of the largest Fortune 500 pension fund companies in the U.S., as well as other public sector finance and budgeting with Bay Area governments including the City of Emeryville and the City of Oakland.

Todd earned his Master's Degree in Public Policy from the Goldman School of Public Policy at the University of California, Berkeley, where he was awarded the Smolensky Prize for Outstanding Advanced Policy Analysis, UC's top policy analysis award. He earned his undergraduate degree in Finance from Iowa State University and was awarded San Francisco's Public Managerial Excellence Award for outstanding public service in 2006.